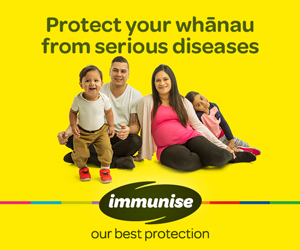 From 1 January 2019 to 11 September 2019 there have been 1172 confirmed cases of measles notified across New Zealand. Of these confirmed cases 970 are in the Auckland region.
Be on the lookout for symptoms of measles they include:
Fever
Cough
Runny nose
Sore and watery 'pink eyes'
Rash
Once you catch measles can infect others from five days before the rash appears until five days after the rash disappears. Measles is highly contagious and spreads easily from person to person through the air.
If you or a family member suspect you have measles you should stay at home and call Greenwood Health on 03 528 8866.
If you have measles, it's really important to limit spreading it to others, so we prefer you avoid the waiting room. Please stay at home.
Immunisation is the best way to protect against getting measles. Measles (MMR) vaccination is free to everyone under the age of 50, 95% effective after one dose and 99% after two doses.
Children in New Zealand normally get the MMR vaccine at 15 months and 4 years old as part of the national vaccine schedule.
Currently New Zealand's MMR stock is being prioritised to the Auckland region and there are some shortages on availability in our region. If you feel that you or your whanau may need vaccination then please call and ask to speak to one of our Nurses on 03 528 8866.
The Ministry of Health provides regular updates on the measles outbreak, which can be found at: https://www.health.govt.nz/your-health/conditions-and-treatments/diseases-and-illnesses/measles/2019-measles-outbreak-information